Product Description
SAHC23-360 Series Angle Sensors
Description
SAHC series sensors are one-piece linear contact angle position sensors. The sensor uses Hall effect technology and operates using a magnetic field generated by a permanent magnet. They provide an output voltage that varies linearly (proportional to the input voltage) corresponding to the angle of rotation of the input shaft.
Features
● Sensor linear output
● From 0° to 360°, without compensation
Applications
angle measurement
Specifications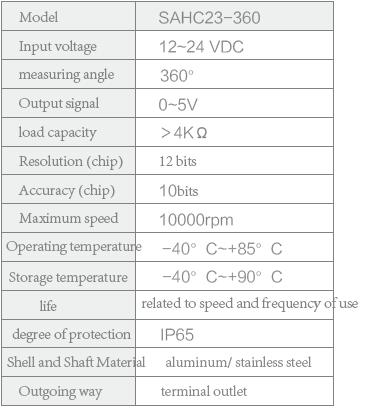 Dimensions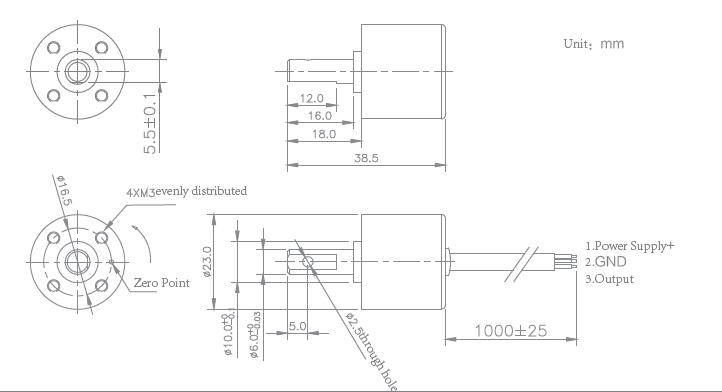 Wiring method

Ordering Guide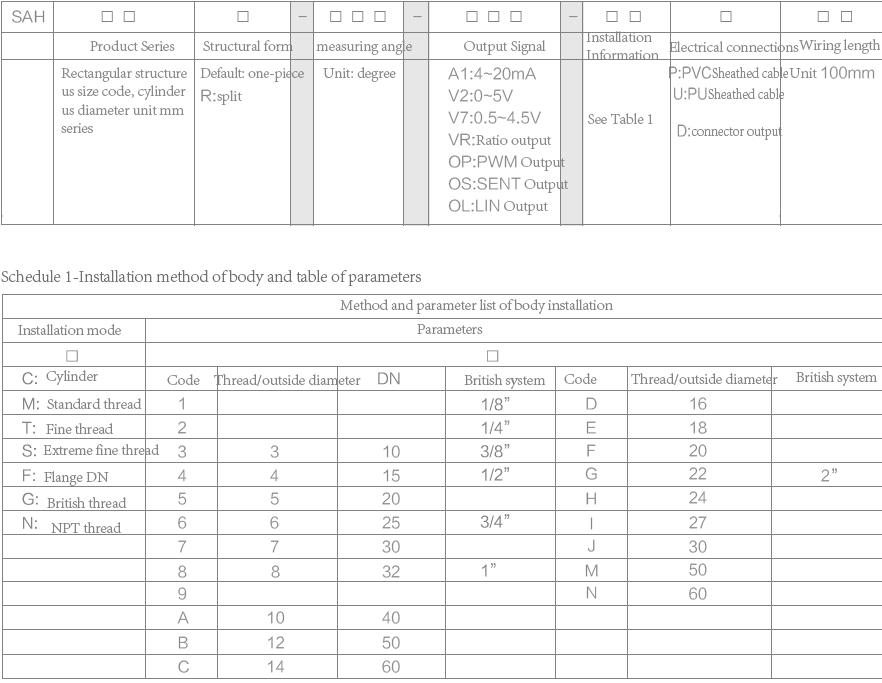 Payment & Shipping
Put each piece in the po bag, and then put it in the carton, then put 50 pieces in the carton. The main carton will be placed on a storage rack and stored in our warehouse before delivery.
Certifications
Our Company
Prestigious and without fear, Soway company is always in pursuit of excellence, growing in size and expanding its area of expertise. Today, the company employs a plethora of brilliant minds, which include a highly competent R&D team consisting more than 30 engineers. The team works enthusiastically and with a meticulous attention to detail, as they construct a supple supply of high-quality products. But Soway's ambition does not end there. As we strive to take one solid step after another, we believe the company has what it takes to one day cement itself as one of the most prestigious sensor enterprises of all.
FAQ
1. Q: What payment method your company accepts?
A: We accept T/T (Bank Transfer), Western Union, Paypal, Alipay, Wechat pay, L/C accordingly.
If any other payment method is more convenient to you, please tell us by including a note while making payment.

2. Q: Can you do drop shipping?
A: Yes, we can help you ship the goods to any address you want. We will not put any catalogue or any document with our company info in it if you requested.

3. Q: How long for the production time?
A: Normally in stock, or 7~10days depends on order quantity.

4. Q: You said we can use our own logo? What's the MOQ if we wanna do this?
A: Yes, 100pcs MOQ

5. Q: How long for delivery?
A: Usually take 3-7 days on delivery via express shipping methods.

6. Q: Can you train us oversea?
A: Yes, we can send engineer to your country and guide on installation etc, but all expense during should be considered by you, in order to save your cost, we can also do remote assistance online.

7. Q: Can we go to your factory?
A: Yes, the factory address:28# Xinfeng Road Potoubei Ailian Longgang, Shenzhen 518172, China. If you take metro, stop at Universiade station then transfer to the universiade sports center direction. a few minutes by taxi. or call us, we will go pick you up.